Bishop Michael Curry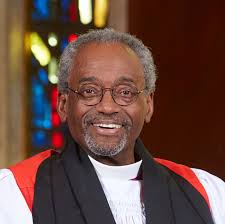 The Most Rev. Michael Curry
The Most Rev. Michael Bruce Curry is Presiding Bishop and Primate of The Episcopal Church.  He is the Chief Pastor and serves as President and Chief Executive Officer, and as Chair of the Executive Council of The Episcopal Church.
Presiding Bishop Curry was installed as the 27th Presiding Bishop and Primate of The Episcopal Church on November 1, 2015.  He was elected to a nine-year term and confirmed at the 78th General Convention of The Episcopal Church in Salt Lake City, UT, on June 27, 2015.
Meet Presiding Bishop Curry
The descendant of enslaved Africans brought to North America by way of the trans-Atlantic slave routes,  Presiding Bishop Curry was born in Chicago, IL, on March 13, 1953.  Presiding Bishop Curry's father was an Episcopal priest and his mother was a devout Episcopalian. She died at a young age, and Presiding Bishop Curry, along with his sister, was raised by his father and his grandmother. His father, mother and grandmother grounded him in Christian beliefs and practices through their example and their teachings.
He attended public schools in Buffalo, NY, and, even at a young age, he learned about social activism through his father's leadership and his own dedication to righting a broken world.
Presiding Bishop Curry was graduated with high honors from Hobart College in Geneva, NY, in 1975. He received a Master of Divinity degree in 1978 from Yale University Divinity School in New Haven, CT. He has furthered his education with continued study at The College of Preachers, Princeton Theological Seminary, Wake Forest University, the Ecumenical Institute at St. Mary's Seminary, and the Institute of Christian Jewish Studies. He has received honorary degrees from Episcopal Divinity School; Sewanee: The University of the South; Virginia Theological Seminary; and Yale.
He is married to the former Sharon Clement, and they have two adult daughters, Rachel and Elizabeth.
Ministry
Presiding Bishop Curry was ordained to the diaconate in June 1978, at St. Paul's Cathedral, Buffalo, NY, by the Rt. Rev. Harold B. Robinson, and to the priesthood in December 1978, at St. Stephen's, Winston-Salem, NC, by the Rt. Rev. John M. Burgess. He began his ministry as deacon-in-charge at St. Stephen's, Winston-Salem, in 1978 and was rector from 1979-1982. He next accepted a call as rector at St. Simon of Cyrene, Lincoln Heights, OH, serving from 1982-1988. In 1988 he was called to become rector of St. James', Baltimore, MD, where he served until his election as the 11th Bishop of the Episcopal Diocese of North Carolina in February 2000.
Throughout his ministry, Presiding Bishop Curry has been active in issues of social justice, reconciliation, speaking out on immigration policy and marriage equality.
In his three parish ministries in North Carolina, Ohio, and Maryland, Presiding Bishop Curry had extensive involvement in preaching missions; Crisis Control Ministry; the founding of ecumenical summer day camps for children; preaching missions; the Absalom Jones initiative; creation of networks of family day care providers; creation of educational centers; and the brokering of millions of dollars of investment in inner-city neighborhoods.
As Bishop in the Diocese of North Carolina, Presiding Bishop Curry instituted a network of canons, deacons, and youth ministry professionals dedicated to supporting the ministry that happens in local congregations.  He refocused the Diocese on The Episcopal Church's Millennium Development Goals through a $400,000 campaign to buy malaria nets that saved over 100,000 lives.
Presiding Bishop Curry has served on the boards of a large number of organizations, including the Task Force for Reimagining The Episcopal Church (TREC) and as Chair and now Honorary Chair of Episcopal Relief & Development.  He was a member of the Commission on Ministry in each of the three dioceses where he has served.
Preaching, writing, recognitions
Presiding Bishop Curry maintains a national preaching and teaching ministry, having been featured on The Protestant Hour and as a frequent speaker at churches, cathedrals, and conferences around the country and internationally.
He has authored four books: The Power of Love (2018); Following the Way of Jesus: Church's Teachings in a Changing World (2017); Songs My Grandma Sang (2015); and Crazy Christians:  A Call to Follow Jesus (2013). He was one of the subjects of In Conversation: Michael Curry and Barbara Harris by Fredrica Harris Thompsett (2017).
He has authored numerous publications including columns for the Huffington Post and the Baltimore Times.
In 2018, Religion News Association named Presiding Bishop Curry religion newsmaker of the year.